Timber Frame Bungalows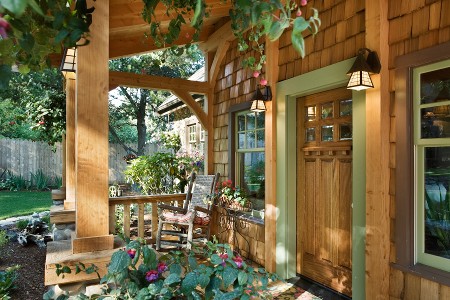 At Build a Bungalow, we know how mujch you love the natural look that our Bungalows provide. We decided to start a Timber Frame line of our Bungalows. For those who are looking for rustic charm anc character, you cannot find a better example than timber frame. We also realize that timbe frame construction is expensive, so we are offering our first Timber Frame Bungalow in a design that can be built with timber frame construction, but can also be built as a hybrid (combination of timber frame and stick-built to save costs. If you like the design but do not want timber frame, you can aso build it as just stick-built construction.
Our first Timber Frame Bungalow design is by British Columbia Timber Frame Company (BCTFC) and is called The Port Orchard. We are working with BCTFC to create a porte cochere and detached garage that will complement The Port Orchard. Pictures of The Port Orchard are courtesy of BCTFC. There are many floor plans for The Port Orchard from under 1200 sq. ft. to over 2600 sq. ft, and 1-1/2 to 4 bathrooms with and without basements. Some version has first floor bedrooms and you can mix and match the floor plans. If you would like to see the various floor plans and discuss building a Timber Frame Bungalow including The Port Orchard, please email me at buildabungalow@aol.com or call or text me at 814-933-9331. I would be happy to show you the possibilities.