Bitty Bungalow -- With "Designs for Life" Features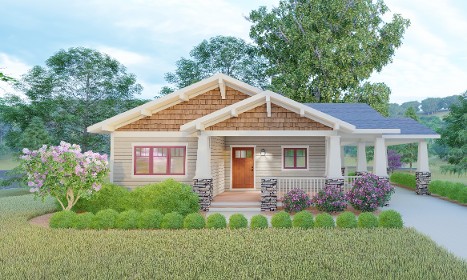 Bitty Bungalow is the first in our Bitty Bungalow line of homes.
If you are looking for a small (under 1,000 sq. ft.) home for your primary, vacation or retirement home, Bitty Bungalow is a perfect choice. The exterior exudes character and the 2 ft. x 6 ft. construction assures quality. Choose a small, low maintenance and affordable 2 bedrooms, 1-1/2 bathroom design with an open floor plan, porte cochere, gas fireplace, front, and back porches and patio. Lots of entertaining space inside and out. This Bungalow also has our famous "Designs for Life" features: turning radius for a wheel chair in the full bathroom, wider hallways and doorways, lots of windows for natural light--flexible space for your changing needs. If you would like to know more about Bitty Bungalow or would like to work with us to create a Bitty Bungalow that meets your preferences, please contact me at buildabungalow@aol.com or call or text me at 814-933-9331.