Buildabungalow.com is all about building new and re-newed Arts & Crafts Bungalows primarily in Treasure Lake, Pennsylvania, a gated community near the 101 DuBois exit of Interstate 80, approximately 2 hours from Pittsburgh and 1 hour 15 minutes from State College, home of Penn State University.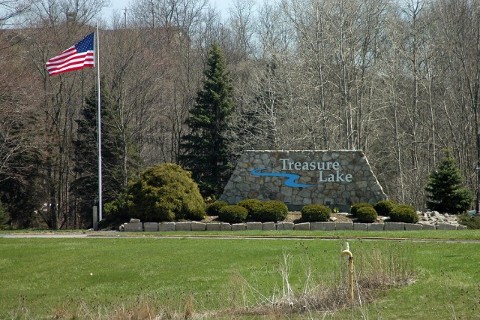 Take a Tour of Treasure Lake. Just click here.
Treasure Lake Was Recently Featured on HGTV's Lakefront Bargain Hunt
(Watch on Amazon Prime, Season 7 Episode 5)
Treasure Lake is a 9,000-acre gated community just off the 101 DuBois Exit of Interstate 80 only 2 hours from Pittsburgh and 1 hr. 15 minutes from State College, home of Penn State University. Treasure Lake includes three beautiful lakes for you to enjoy. Treasure Lake is the power boat lake great for pontoons, water and jet skiing, water tubing and also good fishing. Rent a boat slip on Treasure Lake for only $400 a year!! Lake Bimini is a 9.9 h.p. lake just perfect for small pontoons, canoes, kayaks, sailboats and fishing boats. Lake Bimini holds periodic bass tournaments. Little Flipper is a quiet, relaxing spot for a picnic or to teach your children or grandchildren to fish. Little Flipper is for kids 12 and under and "kids at heart" 65 and older. Picture yourself on Treasure Lake's three white-sand beaches. Take a dip in the new swimming pool. Play golf on Treasure Lake's 2 award-winning PGA golf courses. Treasure Lake hosted a regional qualifier for the U.S. Open in 2011. Stay in shape at the fitness center. If you are 65 or older, you can use the fitness center for free by showing your Silver Sneakers card. Have dinner at the Lakeview Lodge restaurant or poolside café. The Lakeview Lodge offers live entertainment from comedy to cabarets as well as special events like Thanksgiving and Easter Buffets and breakfasts with Santa and the Easter Bunny. A Music Festival is held each July at the amphitheater where entertainers like Three Dog Night, Charlie Daniels and Bret Michaels have performed. .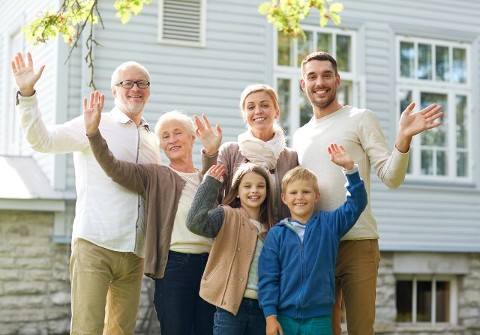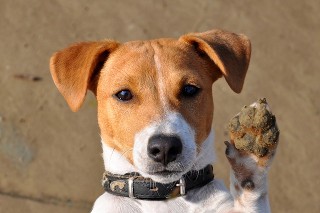 Family and pet friendly Treasure Lake--where people, and others, wave at you whether they know you or not.
Play tennis on our clay tennis courts. Treasure Lake is also home to "Dan Rawlings Quarter Horses" offering horse training, boarding and sales. Go to our Favorite Links page to learn more about "Dan Rawlings Quarter Horses." 10-acre Captain Kidd Park is a great place to take the kids to learn how to ride a bike, enjoy the playground, take a walk on the half-mile walking path, shoot hoops at the basketball court or have a family picnic in either picnic pavilion. Treasure Lake is adjacent to Pennsylvania State Game Lands. Deer, turkey, black squirrels and a variety of birds including hawks and bald eagles are often spotted in Treasure Lake. Treasure Lake is family and pet friendly and is growing as a retirement community. Pennsylvania does not tax retirement income and the State lottery supports senior citizens. To learn more about retiring to Treasure Lake, go to http://www.retiretothelake.com. As you can see in the video, Treasure Lake is beautiful in all seasons: summer, winter, fall and spring. Come home to Treasure Lake. We look forward to greeting you as neighbors. Be sure to schedule your personal tour of Treasure Lake by contacting us at buildabungalow@aol.com or by going to the "Contact Us" page of this website and submitting the form.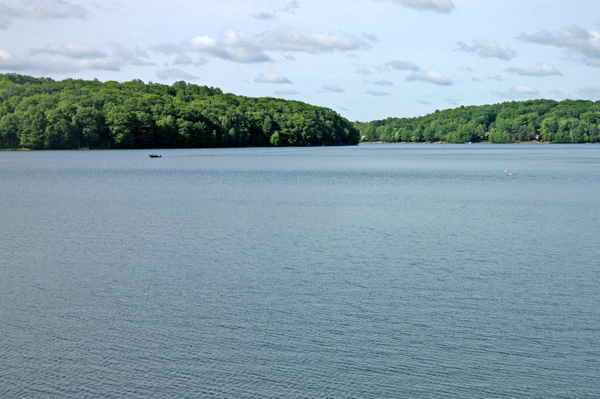 Treasure Lake is the perfect place to build your Arts & Crafts Bungalow. Explore our website and see our other beautiful Bungalow designs or we will work with you to find the perfect design that meets your needs and preferences. Our Bungalows are as individual as their owners, construction begins when owneres are identified. Occasionally. new and renewed Bungalows are available for sale.
See more information about Fern Bungalow in the gated community of Treasure Lake. Just click here to see more about this beautiful Waterfront Bungalow..

We also have two new original Build a Bungalow designs, Independence Bungalow and Freedom Bungalow. Our original Bungalow designs have "Designs for Life" features that include: wider hallways, doorways and stairs as well as open floor plans, turning radiuses in the main floor owner's suite bathrooms and laundry rooms as well as strategically placed windows that provide more natural light for better vision. These Bungalows are designed with flexible spaces that can change with life's changing circumstances. You no longer need to sell your perfect home since our Bungalows change as your needs change.
Take a tour of our Virtual Model Home, Independence Bungalow, from the comfort of your own home. Walk around the beautifully landscaped outside and then go inside to see what living in Independence Bungalow would be like and also in Freedom Bungalow Virtual Model Home.
Build a Bungalow worked with award-winning designer Brian Eicholtz (http://www.theredcottage.com) to create these two original Build a Bungalow designs and we have added afforable Bitty Bungalow, the perfect small vacation or retirement Bungalow design. Bitty Bungalow has "Designs for Life" features.
Independence Bungalow has been built in Treasure Lake by Build a Bungalow clients, Jerry and Kim. See their Bungalow under under Bungalow Owner Stories.
Independence Bungalow was recently selected as one of Architectural Design's Favorite Home Plans.
I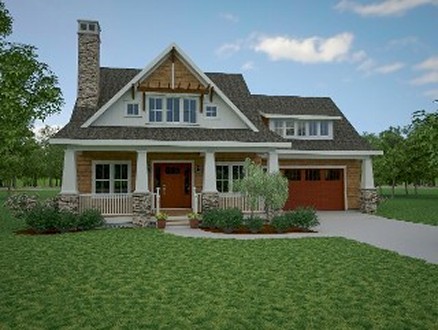 Independence Bungalow--Virtual Model Home (just click on Independence Bungalow for your private virtual tour)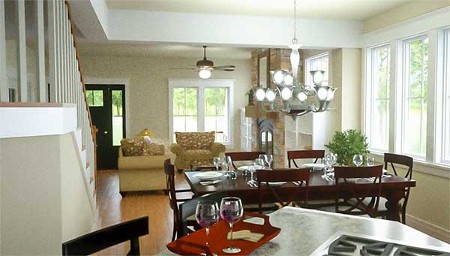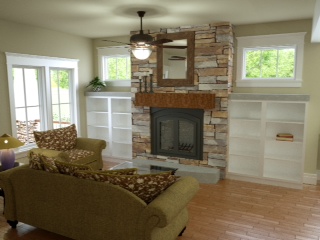 Rendering of Independence Bungalow Open Floor Plan Rendering of Independence Bungalow Fireplace with built-ins
Occasionally, we have a spec Bungalow or re-newed Bungalow available. Look under "Available Bungalows" and come back often for new additions and progress pictures. Contact me at buildabungalow@aol.com or call or text me at 814-933-9331 to be added to our reservation list.
On our Build a Bungalow website, you will discover quality Bungalows you can build on one of our premium home sites. If you are tired of homes without character, warmth and unity with nature, then you will fall in love with the simplicity and craftsmanship of our Arts & Crafts Bungalows. Our Bungalows give you the opportunity to add hand-crafted furniture by Oak-Crafts, lighting and hardware by Rejuvenation Lighting and House Parts and Old California Lighting; the finest hardwood floors from our own Allegheny Forest by Allegheny Mountain Hardwood Flooring, authentic Bungalow colors by Rob Schweitzer, professor of historic architecture, author and guest on HGTV. Thanks to our incredible Build a Bungalow "team" you can customize your Bungalow with special touches not found in other homes.
The Arts & Crafts Bungalow is known as "America's Home" because it was the first home style from 1880 to 1930 that could be found in every region of the United States. Bungalows are usually one or one-and-a-half stories with at least one bedroom on the first floor and typically a front porch. Bungalow characteristics include: wide overhangs, rafter tails, decorative brackets and natural materials like stone, clapboard and shake shingles. Porch columns are often tapered (smaller at the top and wider at the bottom) giving them the appearance of anchoring the home to the earth. They may have pergolas with vining ivy or flowers that bond these homes even more with their natural surroundings.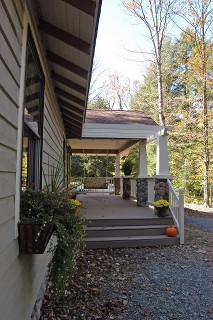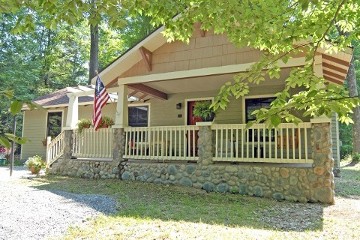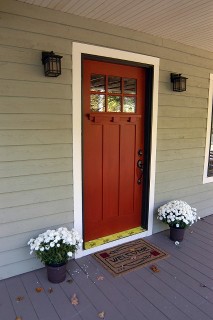 Bungalows are usually seen in natural settings but can also be found in more urban environments in walking distance to town conveniences.
As Gustav Stickley said, Bungalows are based on the "fundamental principals of honesty, simplicity and usefulness--the kind of houses that children will rejoice all their lives to remember as home."
Bookmark this website and come back often. We will have information about living the Bungalow lifestyle as well as Bungalow designs that you can build or are available to purchase through Re/Max Select Group. We will also be adding links to other websites that display handcrafted furniture, textiles and Bungalow accessories.
If you would like more information about buying or building a Bungalow in Treasure Lake or another location, please contact me at buildabungalow@aol.com. We are taking new construction reservations for 2020 and 2021. Take a look at our "Featured Bungalow Designs" and "Designs for Life" Bungalows. We can also work with you to find the perfect Bungalow or other Arts & Crafts period home styles that meets your interests, preferences, and budget.